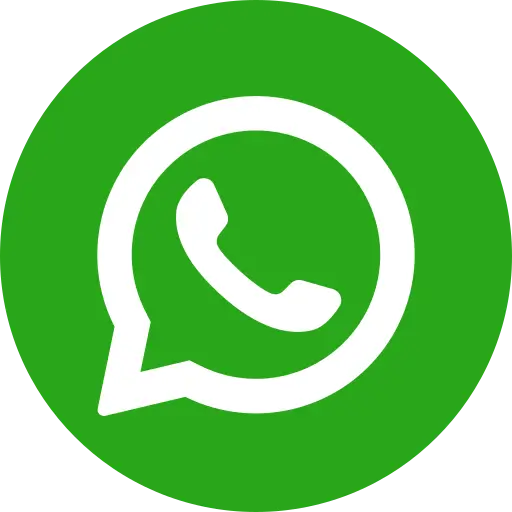 In 2018, Bal Raksha Bharat launched the project 'Making The Invisibles Visibles'. Our mission is to provide identity to 20 lakh street-connected children in four states of India – Uttar Pradesh, New Delhi, Maharashtra and West Bengal by 2020 and link 70 percent of them to education or a social protection scheme. The programme is being implemented in 10 districts of these states.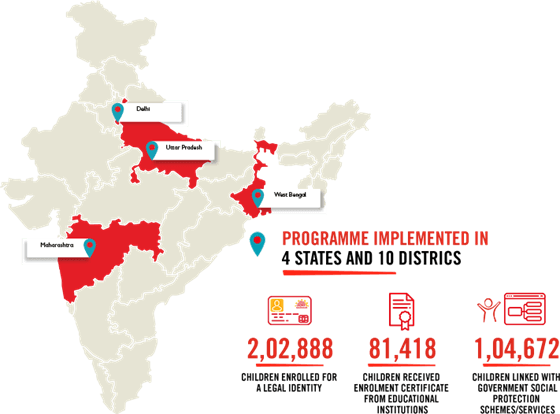 As per Bal Raksha Bharat's estimation, around 2 million children live on the streets of India, away from opportunities of learning and access to healthcare. They are prone to various forms of abuse and most of them lack an identity. These statistics narrate the story of the sorry situation of street-connected children in India:
79 percent of them do not have a legal identity document
1 out of 4 children on the street sleeps hungry at least once every week
70 percent street-connected children are involved in child labour
Every third child on the streets has faced abuse
63 percent children on the streets cannot read or write
37 percent street-connected children sleep on the pavements
There has been significant change for street-connected children already with the support of Government and public. Thousands of street-connected children have secured legal identity which has helped them access essential Government services and programmes. However, most of them continue to be at the receiving end of abuse and are afflicted with numerous issues such as no education, lack of healthcare and most importantly, no identity. This calls for collective action by various stakeholders to address the very unique needs of Children in Street Situation.
In our journey with and for street-connected children, we have received support from Dia Mirza, Sourav Ganguly, Mithali Raj, Soha Ali Khan and Rajasthan Royals for the first ever Street Child Cricket World cup to help amplify the cause of street connected children.
Add your voice to the cause of India's street-connected children who are among the most vulnerable children in India. Join our movement by becoming a campaigner for their cause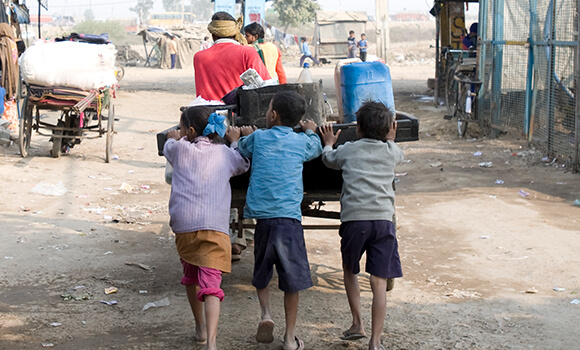 Devika's Story
If someone asks you who you are, you will probably have 3-4 identity cards resting in your wallet as a proof of the same. Other than establishing your identity, these cards have helped you over the years to get access to a number of things, from getting an admission in a school to availing benefits of government schemes. But have you ever wondered what life has in store for children who do not have an identity proof?
Six-year-old Devika was missing out on education only because she did not have an identity card. Purnia Railway Station, the slum pocket where she resides with her family in Lucknow has around 200 households, with less than 5% children going to school. Devika's mother, Rukmani desperately wanted her daughter to receive education, something that she missed while growing up.
Bal Raksha Bharat, through its flagship project on Children in Street Situations, 'Surviving the Streets in India: The Invisibles', reached out to children like Devika to provide them an identity. Our project team connected with Devika's family. In the absence of any address or residence proof, they were facing great difficulty to obtain an Aadhaar Card for the girl.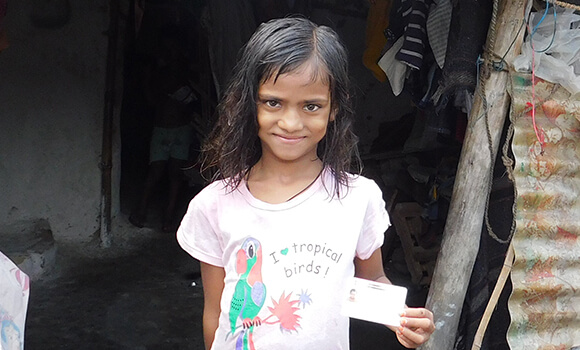 Our project team worked around the administrative norms and procedures, collected all the details, and submitted them to the authorities. Eventually, Devika was taken for her fingerprint registrations. In a span of few days, her Aadhaar card sent out to her.
A small piece of paper with a unique identity number changed Devika's life opening a window of opportunities for her. It gave her an identity and helped her get enrolled in the nearby school. Seeing Devika get dressed every morning to go to school gives her mother a great sense of satisfaction. She now knows that her daughter's future will not be bleak.
Children like Devika deserve their share of happiness and Bal Raksha Bharat is working relentlessly to ensure that such children are not left behind because of who they are or where they come from.