#TheInvisibles campaigns the betterment of the lives of street children in India, who lack an identity, by engaging relevant stakeholders to ensure their difficulties are resolved by the support of various enforcement agencies.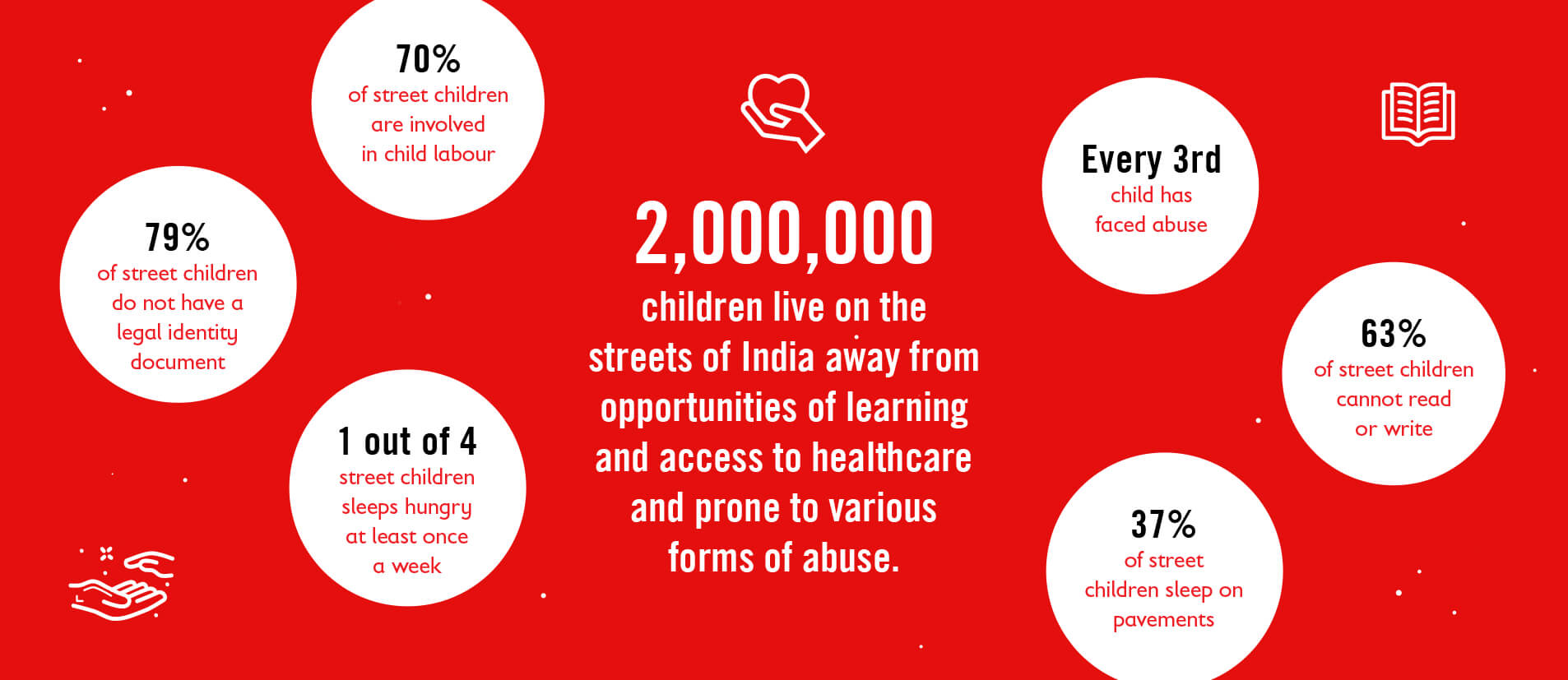 Through #TheInvisibles, we were able to raise awareness and inspire many people to take the necessary measures, nationally and internationally!
Building general awareness

We collaborated with a range of influencers and partners to raise awareness about issues faced by street children. We were supported by Dia Mirza, Sourav Ganguly, Mithali Raj, Soha Ali Khan, and Rajasthan Royals for the first-ever Street Child Cricket World Cup to amplify this cause.

Raising awareness through Child Champions

Child Champions built and generated awareness around #TheInvisibles through their own stories. Child Champions like Sumit and Manisha, who have survived the streets and come out stronger, lent their voices to this campaign.

Ensuring sustained digital engagement

We used social media platforms like Twitter, Instagram and Facebook to engage our audiences through interesting surveys, Twitter chats, Instagram Live sessions, posting articles composed by our viewers, interaction with children who are doing incredible work, etc.

Impressive media coverage

We collaborated with leading media houses for prime time live telethon aimed at drawing focus to the lives of street-connected children and to raise funds for an emergency situation. The two-hour-long live telethon included artists, corporates, policymakers, child champions, and more, who shared their thoughts, stories, challenges, and commitments for India's children to make #TheInvisibles visible.

Celebrating street children

We continue to celebrate International Street Children Day and World Day Against Child Labour every year, not only to highlight the struggles of street children but also to commemorate our success.
We have achieved considerable success ever since we embarked on the journey to make #TheInvisibles visible.
The Netherland Postcode Lottery Grant to #TheInvisibles helped us provide
identification proofs to 2,28,253 children. These children have been enrolled for Aadhar Card and with other legal identity documents such as Birth Certificate, PAN Card, certificates from MP/MLA/Councillor, certificates from educational institutions, etc.
The Netherland Postcode Lottery Grant also helped 89,994 children access valid
government protection schemes and services. These schemes and services include Anganwadi centres, health centres, vocational training, and creating a bank account, etc.
The Netherland Postcode Lottery Grant supports our advocacy. The grant ensures support of the government at various levels and ensures Bal Raksha Bharat engages with a wide variety of stakeholders to destigmatize street-connected children and provide them with mainstream involvement.
The success of the Standard Operating Procedure. Every citizen and government body was helped with a procedure to navigate the issues of street children. This was possible with the support of the National Commission for Protection of Child Rights.
Support and collaboration of our partners have brought #TheInvisibles campaign its due success.

Youth Ki Awaaz

Street Child United

Consortium for Street Children
Do your part, take a stand and show your support to the children of the streets.
Write about children living on the streets and self publish on Youth Ki Awaazand using
#TheInvisibles

Support Child Champions by donating to Dream Accelerator