A BAG FULL OF HOPE!
By Dwishojoyee Banerjee
Young Campaigner with Bal Raksha Bharat,
Ashoka Young changemaker and Global Changemaker with CDF
I'm Dwishojoyee, founder of The Soft Movement, which works towards reducing the usage of plastic-bags by upcycling newspapers to make eco-friendly bags which are then distributed to small vendors for free. Under this initiative I curated the Paper-Bag Project, which is a workshop that I conduct with school and college students to educate them on the harmful effects of plastic and teach them to make paperbags that can be used at home or distributed in communities.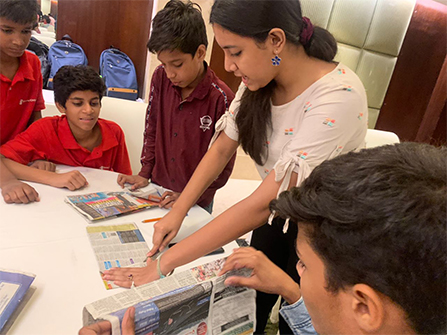 Recently, I got an opportunity to engage with Child Champions from the North Hub of Bal Raksha Bharat. Child champions are the children that Bal Raksha Bharat engages with as part of the programme interventions. These children show exceptional qualities of leadership and thus emerge as change-makers.
I, along with my fellow young campaigner Naman conducted an hour long workshop for these children. The day was fun filled, newspaper scented, energising and enriching. The room was divided into 4 groups, with children who came from the same areas clubbed together into one team.
We started with talking to them about their daily habits that impact the environment and then segwayed into a waste segregation game to seed in the idea of proper waste disposal and management. The second half of the workshop focused on paper-bag making. We gave step by step instructions to the children to make bags out of old newspapers. The children ran to help each other as they battled to finish making their bags with limited art supplies. It was overwhelming to see how limited resources can induce empathy and bring communities together. The children took pleasure in sitting together, playing with newspapers, making mistakes, teaching each other and creating something to give back to mother earth.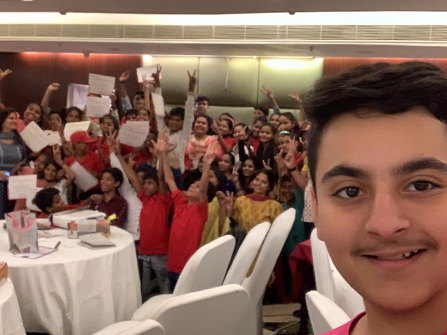 Two hours and many laughter fits later we managed to completed 60 paper bags which everyone pledged to use. I was so thrilled to see the excitement in the room that I would rather call it a "fun"shop than a "work"shop!
I learnt so much in those two hours, as a facilitator, a change-maker and a young campaigner! that this experience and the stories of these children will always make me smile. Their eagerness and zeal to learn and re-start after every mistake showcased their ability to become ambassadors of change and established them as what they are rightly called- The Child campions!
GENERATION HOPE SOUNDS A #RedAlertOnClimate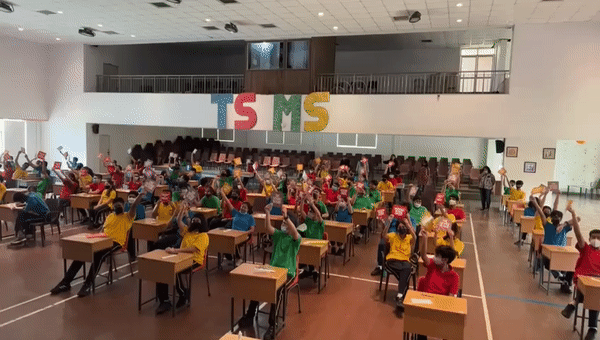 The Youth Campaigners Programme visits The Shriram Millennium School, Noida
-Sumiti Goel, Young Campaigner
"We are afraid that our voices will go unnoticed, but if we speak together consistently they will have to hear us!"
said one of the students of Shriram Millennium School, when asked about youth's role in steering change.
Youth today are driven by optimism and belief in change, discontented to wait on the sidelines and rather eager to set the course of the ecosystem's evolution.
Bal Raksha Bharat launched the Young Campaigners programme to motivate and empower young people to become agents of change. The programme seeks to raise awareness about pertinent issues particularly climate change and encourage volunteering among youth. One of the key elements of the initiative is to build capacities of the young people to empower and inspire them to take collective action.
Generation Hope, Bal Raksha Bharat's global campaign for and with children, has been pushing for immediate action on climate change and injustice. We believe that the world is at a fork in the road, and it's time we followed the lead of our children and youth to fix the damage.
On 12 May'22, the Young Campaigners Programme brought Generation Hope to The Shriram Millennium School, Noida.
The session was led by by Bal Raksha Bharat, India and Hari Koshish, an initiative by Naman Sonpar, one of the Young Campaigners with Bal Raksha Bharat dedicated to a more prosperous, environmentally friendly, and secure future.
The aim of the session was the guage the understanding of children on climate change and to raise awareness about the role of youth in environmental conservation. The session was attended by 150 9th grade students of the school.
The workshop had several engagement activities to enable children to think about their responsibilities in combatting climate change and to make conscious everyday choices. MASH Project Foundation, a leading youth- led organisation spoke to the children about 'carbon footprint' through an activity where students were made to calculate their carbon footprint based on their everyday habits. The children were both surprised and intrigued by the results of this activity.
The session ended with collective storytelling, in which students had to weave together a tale. Beginning with "Once upon a time" and finishing with "and that's how young people built the world of their dreams." The story weaved by the children of the school highlighted how young people no longer want to be bystanders. They want a seat on the table to discuss, articulate and debate the decisions that would affect their futures.
The Young Campaigners Programme, not only creates awareness amongst the youth about important issues, but also accredit and acknowledge the efforts that the young people are putting in to steer behavioural change and shift narratives to create shared prosperity in the world.
If you are inspired to lead the change, sign up to become a young campaigner and become a part of the change!
https://balrakshabharat.org/youngcampaigners/