JOIN US IN OUR MISSION TO SAVE LIVES
HELP PROVIDE RELIEF AND SUPPORT TO PEOPLE FIGHTING COVID-19
REACHING 1 MILLION CHILDREN IMPACTED BY THE SECOND WAVE OF COVID-19
As per the Indian Income Tax Authority Rule, a donor is required to add PAN number in case the donor wishes to receive the 80G certificate.
Donating from outside India? Please click HERE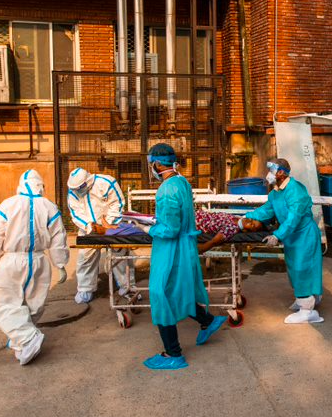 #THINKOFTHECHILDREN: A MISSION TO REACH 1 MILLION OF THE MOST VULNERABLE CHILDREN AND FAMILIES WITH LIFE-SAVING SUPPLIES AND SUPPORT
As India reels under the devastating surge of Covid, children are bearing a deep impact. It is crucial for us to stand with children NOW and provide essential care and protection.
The second wave of Covid is affecting children's well-being, many have lost their parents and are extremely vulnerable, living in fear and distress.
If we protect children NOW, it will give them hope and shape the future they deserve – a future where every child survives, thrives and is protected from harm and abuse.
Bal Raksha Bharat's mission #ThinkOfTheChildren will reach children and their families across 14 states in India. Amid devastation and death, we are providing life-saving medical support, essential care, relief items and pyscho-social rehabilitation support to the worst affected children and families.
Food Basket

Includes: Rice, wheat, Moong Dal, Tur Dal/Black gram Salt, sugar, Tea, Oil, Spices, Onion, Potato and Soyabean

COVID Care Kit and Food Baskets

Includes: pulse oximeter, thermometer, spirometer, vitamins & supplements, relevant medicines, steam inhalation machine, sanitizer, masks and other useful items, Rice, wheat, Moong Dal, Tur Dal/Black gram Salt, sugar, Tea, Oil, Spices, Onion, Potato and Soyabean

Oxygen Cylinder (with flow meter)

Includes one oxygen cylinder with flow meter

Oxygen Concentrator Machine

Includes one oxygen concentrator machine
Your small contribution will go a long way in providing life-saving care to those who cannot access it and will help reduce the risk of infection, disease and death.
It's a crisis of epic proportions and we're in this together. Remember, no one's safe until we're all safe.
THIS IS AN URGENT EMERGENCY APPEAL and it is critical for the potential impact it has.
Please DONATE generously to help save lives.