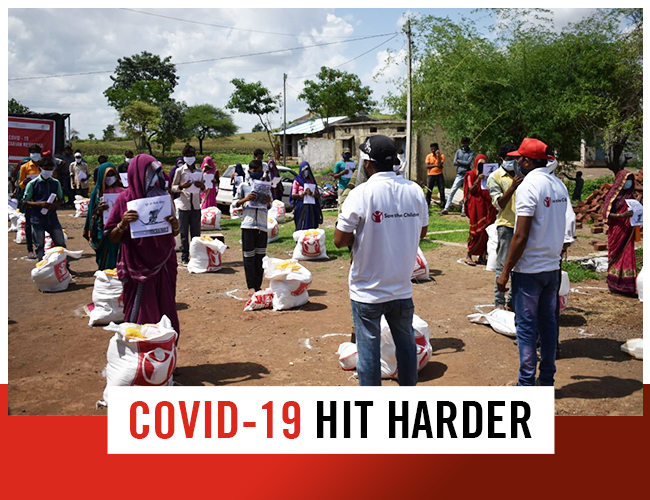 Programe interventions for children in distress during COVID
There has been a surge in SOS calls being made on the impact that the COVID-19 second wave has made on children. Though there is no information or number available on the list of children who are living without parents or guardians support temporarily and children who have lost their parent or guardian, these numbers are estimated to be high. Considering the impact that COVID-19 second wave has on children, there is an urgent need to intervene, both through on-ground programme interventions like and policy advocacy actions for the following :
a) Children whose parents are affected by COVID 19 and staying without them
b) Children who have lost their parent due to COVID-19
Hygiene Kit (includes Dignity items) – INR 2000

Includes: Shampoo, Towel, Disposable Razors, Shaving Cream, Comb, Washing Powder, Candles, Washing Tub, Cotton and Polyester Mixed Mosquito Net, Plastic Mug, Plastic Jug, Nail cutter, Antiseptic Liquid, Cotton Roll, Bandages, Umbrella Foldable, LED Torch Light, Soap box, Sponge for Washing Dishes, Hygiene Kit Bag

Covid care Kit (this kit will come with guidance on how to use it) – INR 3000

Includes: Pulse Oximeter (fingertip) (1), Digital thermometer (1), Face mask (50), Steamer (1), A hand sanitizer (100 ml), Disinfectant Spray, 30 Vit C tablets, Four Vitamin D3 sachets, 60 Gilloy tablets, Vitamin Zinc Zinconia 50 mg (30 tablets), Topcid 40 mg (14 tablets), Ammunity Plus Liquid 200 ml (Kahra), 15 tablets of Dolo 650 MG, multi-vitamin Supradyn Tablet (30 tablets), Cough Syrup 100 ML, Betadyne gargles or salt Gargles, Tab Okacet, Sanitary napkins (for females), Plus medicines approved by respective state / district health authorities

Food Basket – INR 5000

Includes: Rice, Wheat flour (white), Lentils, Oil(Vegetable), Salt(Iodised), Sugar, Onion & Potato, Nutrella Soya Chunks, Turmeric Powder, Coriander Power

Combined Kit – INR 10000

Includes: Hygiene Kit, Food Kit and Covid care kit

The items in kit will take care of daily essentials, urgent medications that maybe required along with guidance on usage, and food basket containing basic food items required in the household on a daily basis
FAMILIES AND CHILDREN REACHED LAST YEAR THROUGH COVID RELIEF RESPONSE.
Last year, Bal Raksha Bharat mounted its biggest humanitarian response to reach the most vulnerable communities and children impacted by the first wave of the pandemic. We reached 13.64 lakh people out of which 5.57 lakh were children. Our geographical footprint spanned 49 districts in 13 states and 2 Union Territories.
SECOND WAVE OF COVID-19 ENGULFS INDIA: Bal Raksha Bharat'S HUMANITARIAN RESPONSE.
The devastating second wave of COVID-19 has engulfed the country, and it poses a serious threat to the health and well-being of children. With India reporting more than 310,000 new cases every day, there's a complete breakdown of the health system across various states – lack of basic health facilities and personnel's, lack of oxygen, lack of ICU beds, brittle supply chains – the situation is heart wrenching! In light of the current situation, Bal Raksha Bharat India is redoubling its efforts to provide survival essentials in the short and medium term, driven by the needs of the marginalized children and their families.
Ever since the battle against Coronavirus began in 2020, Bal Raksha Bharat India has been at the forefront despite facing severe constraints, helping the most vulnerable families and children. Through a number of relief distributions – ration kits, food items, hygiene kits and learning kits along with awareness drives and psychosocial support, we were able to touch the lives of 13.64 Lakh people, including 5.57 Lakh children in India in the year 2020. We have been the first witnesses and responders to the crisis on the ground and supported and save many thousands of children and their families.
Keeping in line with our mandate, Bal Raksha Bharat is mounting a response to ensure that the most deprived and marginalized children in India survives, learns and remains protected during the protracted COVID emergency. We have worked out an exhaustive humanitarian response strategy prioritizing the aligned needs on ground both in immediate terms and longer term. We are actively working with sub-national & local government and communities across many locations in the country in line with the enhanced strategy and also supporting in promotion of COVID-19 appropriate behaviour (RCC) focusing more on children like never before, enabling access to health care services, helping in rolling out/ fast-tracking of Vaccination for most marginalized people as our key strategic priorities. Attached is the same for your kind perusal.
Why it is important to be cautious this time.
Right now, the country is in the grip of the second wave of the COVID-19 pandemic. The infection is spreading rapidly and affecting scores of people in towns and cities across India. There are several reports of the new strains of the virus being more infectious and this time, the young and children are also impacted. There is a tremendous burden on the healthcare systems of India. It is absolutely essential that everyone follows COVID Appropriate Behaviour religiously – masking, good hand hygiene and maintaining physical distance.
How and why should one be vaccinated.
Vaccines offer a good degree of protection against Coronavirus. From May 1 onwards, vaccination is available for everyone above the age of 18. Please do get vaccinated as per your turn. Registrations can be done on the CoWIN portal: www.cowin.gov.in/home
Your donations
have changed lives.
A small amount can change the life of a child; through education, nutrition, and basic protection, children can lead normal lives. The adjacent graph is a representation of how we have utilised your donations.