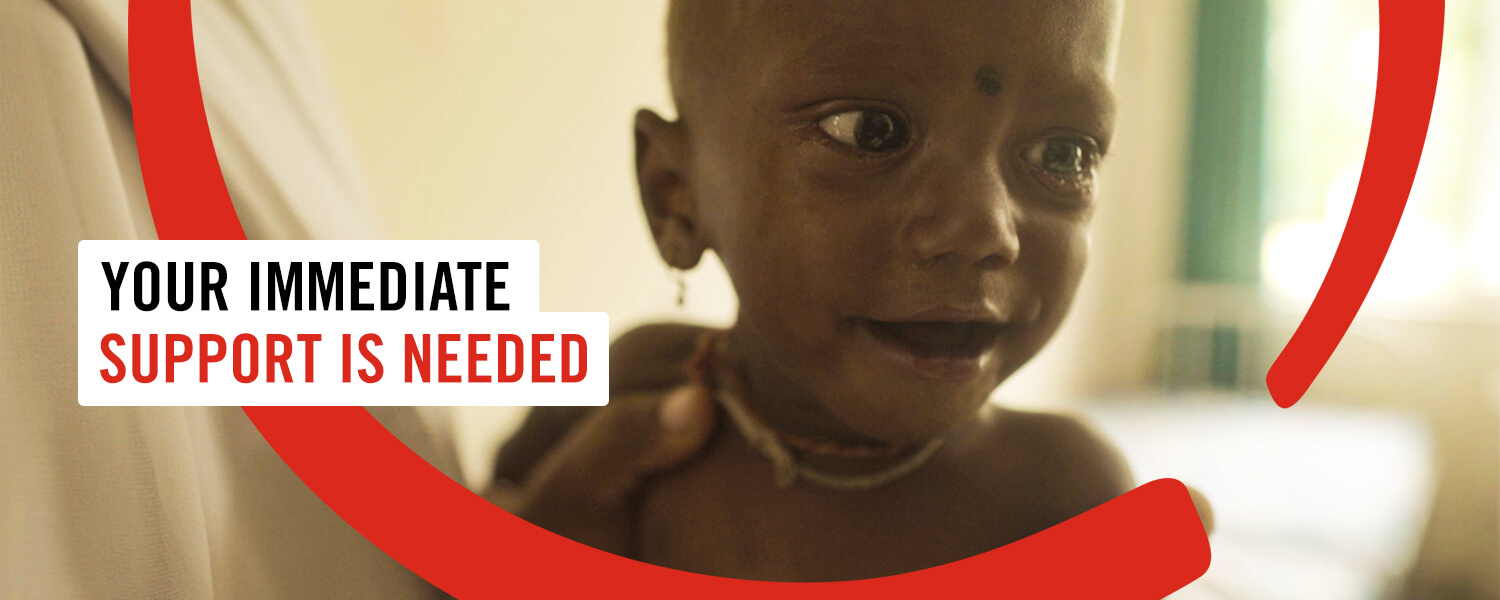 MALNUTRITION IS A KILLER BUT TOGETHER WE CAN HELP CHILDREN FIGHT IT
Malnutrition in India has scarred the lives of millions of children. Almost one-third of under-5 children in India grapple with some form of malnutrition, whether it's stunting or being underweight. Malnutrition snatches away from children a chance at a happy and healthy childhood, hampers their physical/mental growth, and exposes them to serious risks.
India contributes 20% of under-five mortality and 25% of neonatal mortality, globally
Among the 472 million children (2011 census), 97 million are anaemic and undernourished.
Every 25 seconds, an under-5 child in India dies due to a preventable cause such as malnutrition or infection
These are not just some statistics to be printed in the newspaper – these are harsh realities on the lives of young children of India and it's our collective responsibility to save children's lives.
And this is why Bal Raksha Bharat works to devise new-age solutions to help children coming from the most backward communities fight malnutrition. We adopt the following approach in this mission of ours:
Engage with experts like public health experts, doctors, researchers, and others to plan robust on-ground projects to help communities eradicate malnutrition
We work to build the capacity of health workers, ASHA workers, Anganwadi workers, and other on-ground professionals, equipping them to respond better to cases of malnutrition in their communities.
We help mobilize severely malnourished children to hospitals and healthcare centres and provide nutrition support to them
We constantly engage with the communities, through which we spread awareness, promote best practices on nutrition, and map children who need help
As per the Indian Income Tax Authority Rule, a donor is required to add PAN number in case the donor wishes to receive the 80G certificate.
Your donation is 100% secure.

We believe that every child, no matter who they are or where they come from, should grow up healthy. Bal Raksha Bharat, through its Health & Nutrition Programmes, has benefitted 85,216 lakh children in 2019!
WITH YOUR SUPPORT WE CAN REACH MORE CHILDREN AND SAVE MORE LIVES. WILL YOU HELP?
₹800 Can bring nutrition and medical help (often life-saving) to an infant in need

₹1600 Can bring continuous education and nutrition to a child
OUR DONOR PROMISE
If you have any questions about your donation or our work, please contact us at donorsupport@savethechildren.in, we promise to reply as soon as we can.
ABOUT Bal Raksha Bharat
Bal Raksha Bharat is India's leading independent child rights organisation which has impacted the lives of more than 10.1 million children in the last 11 years. Founded in 1919, Bal Raksha Bharat has been working in India as an independent entity since 2008. We are on the ground every day, doing whatever it takes to help the most vulnerable and marginalized children survive, thrive and learn. Our pioneering programmes based on a century of experience address children's unique needs, giving them a healthy start, opportunities to learn, and protection from harm. When disasters strike, we are always among the first to respond and last to leave, ensuring we reach out to every last child. In 2018, Bal Raksha Bharat impacted the lives of more than 1.2 million children.
In the period 2019-2021, Bal Raksha Bharat is poised to reach 4 million most marginalised children and catalyze change for many more in India across 12 states. We will do this by innovating, tapping emerging trends and forging strategic partnerships.